Beware ! You're in Kamikazie here. Not many pro luthiers around, more often brave souls experimenting in their kitchen.
Replacing a trussrod, H79 - by Raz
Raz : Hey I'm a kiwi, I have a lounge and I like sharp implements so I thought I'd jump in on the act.
Here's a pic essay (ongoing) on replacing the trussrod in my H79.
This guitar has a definite neck bow, which is compounded by
1) the trussrod appears to have been replaced, or at least the nut has and it's very hard to turn.
2) when you can turn it it only goes so far, and isn't fixing the problem enough
So after consulting with my favourite local luthier, we agree that the rod is not doing it's job and needs to be replaced.
Step 1: Remove the neck from the body. I'm a cheap bastard and will recycle the strings until I get it up to playable condition, then I'll treat it with a new set.
The H79 neck has a lot of faux MOP inlays and plastic binding so I'm going to use some shielding foil as a way to try and protect the inlays from the heat application.
This is the neck heater I bribed my local music shop owner with beer to borrow. It's an Aria model, which is listed in their catalogue but I can't find one to buy online for a reasonable price. Luthiers Mercantile carry a reasonable priced one, in both 110V and 230V.
Another shot of the neck heater.
I wish that my fretboard would seperate like Laurie's with a tap of a chisel, unfortunately this one is firmly attached, hence the need for heat. If I was a real kamikazi I would use a household iron but I'm a wimp.
Also bear in mind this is not a trivial task and there is some risk of damage involved so make sure you need to do it before you start.
Step 2:
The victim is clamped to the heating bar with the foil strip over the inlays.
Next the victim is gently cooked.
I let this sit for 1/2 an hour at full heat on the bar and checked the back of the neck regularly till it was hot. You'll notice in some photos there's a bit of browning on the inlays and bubbling on the bing from the heat. I'll clean that up when I reattach the board.
If you wanted to be extra super careful you might want to consider heating it twice, first to remove the inlays, second to heat the fretboard glue. And be prepared to rebind the neck if necessary.
If I was trying to heat a bow out of the neck I would use a much lower heat for a longer time, and then once it could hot enough I would turn the heater off and leave it clamped.
However for this I want the glue as soft as possible so I remove the clamps straight away.
Step 3:
Starting at the nut end (with nut removed) because it's not visible if I gouge anything (hidden under nut) I start to lever the fretboard off. I used a big old chisel as a lever and a large sharp kitchen knife. A very good idea is to use a craft knife to break the glue/laquer seal all round the neck before you start trying to lift the board.
Then I use the big knife to gently work it loose down the neck. Be careful and keep a close eye on things because if you strike a big hard lump of glue, your knife may start cutting wood not glue and that is most definitely not good.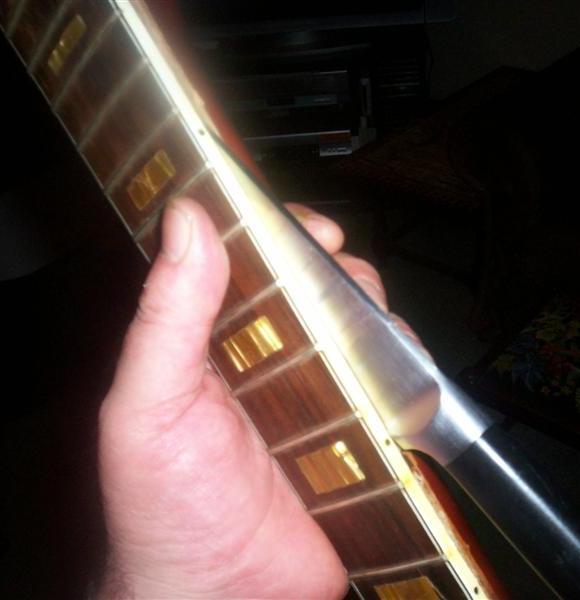 And finally, voila the fretboard seperates. A little bit of fretboard material is still attached to the neck but not much and I can gently use a sharp blade to remove it and reglue to the fingerboard.
Step 4:
Undo the trussrod nut (if it's not off already) and I levered the trussrod ut of the channel. I'll need to get some pliers onto it to unscrew it from the base end. Truss rods are never glued into the channels so this is a relatively simple move.
More to come soon... My partner has returned and wants her lounge back :-)
Geo : Nice Paul, but does the use of a 500 dollar heater knock you out of the kamikaze class?
Raz : The one from LMII is $269.55 George, and yeah I could have used a household iron but if I can get hold of the right tool, why not.
And i think the use of beer for bribery purposes must help with Kamikazi Kredibility. Or should it have been Sake ?
Hang on a sec - weren't you the one who asked me to document this George? And now you're questioning my credentials? Sheeesh...
..And do you really want to make a man with sharp objects grumpy?
Geo : UNCLE!
Dude thats one scary picture, I'll never question your cred again, and keep up the good work.
The fret board i took off the broadway cracked and broke, gotta replace it.Gotta get one of those heater gizmos. The one from lmi doesnt look as good as that one nor do i think it comes with the clamps, but yes much better price.
---
..to be continued

january 2008