Beware ! You're in Kamikazie here. Not many pro luthiers around, more often brave souls experimenting in their kitchen.
Reglueing lifted bridges - Different ways to clamp - by Kev, François, Toadman
Kev : The other day I hit the BIN for a Silvertone nylon string...a whopping 25 bucks with 13 for shipping. It's one of those 'odd duck' Silvertones that have a classical neck on a a h162 style body. Stamped f-64, model h663. Spruce top and I think birch back and sides. Anyway, as the auction described the bridge was warped all to s**t. I popped it off, boiled it in a frying pan full of water 'til it straightened up, let it dry a bit & put it back on. The glue is setting as I write. Thought ya'll would get a laugh out of my clamping system. One clamp...a steel ruler and 8 nickels..lol!!!
François : You mean the nickels were added after clamping, to push down enough the ends of the bridge, using elasticity of the steel ruler ?
That's high technology ! :-)
Kev : Exactly François ! I added the nickels after, to hold down the bridge 'wings'!
François : I often use the kind of rig below to balance the load when clamping
This is the useful hot glue gun to glue the cauls. Fast and not to hard to unglue...
Same principle applied to clamping a uke's bridge
Note that I had to hang the uke to the clamp, the clamp itself is more heavy than the whole poor little uke. It would warp the top just by its weight. Below you see how the chair holds the clamp and the clamp holds the uke in the air... In a lesser way this can be true for guitars : we have to be careful with clamp's weight...
Kev : I like your idea with cauls better, will try that on the next one. Better coverage/spread over the bridge surface than using currency...prolly need the nickels for the impending recession anyway! lol!
...and do I stand a chance of winning this years 'King Kamakazee' award ?
Thumbpicker : You'll damn sure get my vote Kev...
François : Here is how I shaved and clamped a H942 Stella bridge...
The guitar is in very good shape, but bridge started to lift. I had to reglue it...
First work was to unglue it completely
This tells us how they proceeded at the factory : it looks like they used something to mask the bridge area before applying the body finish, then they glued the bridge, with just the right amount of glue (or a bit less...). You can see there is a relatively large part of the surface without any glue, or glue applied on the nitro finish. I'll prepare a better and larger surface.
I use this scrap tool to remove the remaining wood particles, old glue, and scrapped to the bare wood on the whole surface of the bridge.
While the bridge was removed, I thought that I could remove some thickness to get a better action. This guitar has a nice straight neck, and "a decent" action, I think this was the kind of action they had when new. But it could be a bit lower to play with less effort.
This is the belt sander machine I used to remove about 1/16 of thickness to the bridge. You have to be careful and check often, because this thing removes wood faster than you think... I wish I had a slow belt sander as the one built by Frank at frets.com.
To be precise, I chose to remove wood at an angle, ie removing 1/8 on the front and 1/16 on the back. This would lower more the saddle, without removing too much.
(If you think to it, removing 1/8 at the saddle will only lower the action by 1/16 at the 12th fret, in the middle of the string length)
Sorry I don't have a shot of the bridge clamped, I stupidly forgot, but I have this one showing all the bits used : two clamps from Stewmac, some cork to protect the bridge (slices from a Champagne stopper, isn't this cool ?), and the larger wood bar was used as a caul on the underside, to permit the clamps to escape the braces in there...
Finished (strings were not yet in tension) : compare this with the "before" image above. You can see the difference in thickness, and the small angle on the side of the bridge.
The gain in action made this guitar a pleasure to play...
Garret : Cool, good job guys! Thanks for all the info
I may attempt a bridge reset on my Kay jumbo in the future. Looks like it may be doable.
Kev : I'm a little lower tech in my bridge removal than François. The glue on Harmonys tends to be brittle, and from what I've seen, they overdid it on the inside bracing and went light on the bridges. I butt a woodblock up to the bridge and tap with a rubber mallet. Most i've done have come off in two taps at the most.
Boy ...wish I had a belt sander... I been doin' that with a palm sander. lol !
---
toadman

: well it's been a busy summer so i haven't been hanging out here very often. but now i feel the need to cry on your collective shoulders! :tears: last winter i bought a 1965 H-165 for $60. needed a neck reset and bridge stabilization. i paid big bucks to have it done by a respected are luthier shop. it's too sweet of a instrument to try it myself! got it back a few weeks ago and i even gigged with it last weekend it performed BEAUTIFULLY but still needs a bit of tweaking to be perfect(fret leveling and lower the saddle a bit). i was hoping to play it at an ol' timers jam at the Rhythm and Roots fest this weekend in Rhode Island. but that will not happen i opened up the case yesterday and this is what i found:
needless to say i'm BUMMED! anybody ever experience this? looks like the bridge plate is two peices glued together. apparently the glue deteriorated. the luthier removed the screws that used to be there. could that be the cause/contributing factor?
[...a month and half discussions later...]
well, Gentlemen, i've been sitting around staring at the broken 165 for a few months now, thinking about when i can make the 1hour + drive up to the shop to get my bridge fixed OR get the gumption to try and fix it myself. well today i took the bull by the horns. i scraped as much of the old glue off as i could and lightly sanded both sides of the broken bridge. i don't have any real fancy clamps so i used bar clamps, a few spring clamps and some scrap wood. i glued it with titebond and clamped it tight enough to set it well while not damaging the soundboard(i hope). we'll see!
i did notice that the bridge would DEFINATELY have a weak spot between the saddle and the end holes, which is probably why they originally had screws in it to keep the end peice from popping.
so take a look at the pix and tell me how bad i'm screwing up my 165!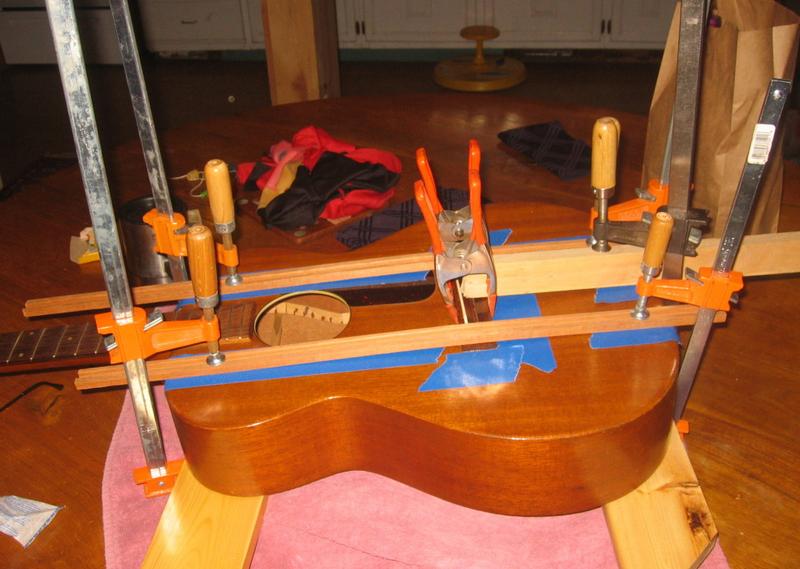 i figure if this repair dosen't take i'll spring for a new bridge. prbably one with pegs this time! in the meantime i'm about to hit on a Stella trapeze that will hopefully make the guitar playable while i wait on the time/money for a proper repair!
micky : that construction could be mine, except that would usually involve some milk cartons... i see no reason why it shouldn't work, all seems to be lined up well. i keep my fingers crossed while i'm waiting for the glue to dry on my neck reset.
fanfab4 : An inventive way to clamp the bridge Toadman . Of course the best would have been to use long arm clamps through the sound hole but you made use of what you had . True Kamikaze workmanship .
toadman : well thank you sir! my fear was that by putting on enough pressure to hold the bridge together i'd be pushing dowm the bridge area too much and stressing out the soundboard. i went as light as i could. we'll see!
i think i'm going to take a couple of those bar clamps over to my neighbors houst and have him weld a couple extensions on so's next time i have something resembling the proper tool!
i just bought a Stella trapeze tailpeice in case my hack repair job dosent hold. keeping my eyes peeled for a new bridge too.
micky : not a big fan of putting trapeze tailpieces on guitars that are not built for them. anyway, i'm sure your repair will hold.
[...four days later...]
My grandad used to say it's bad luck to be cocky about lifes successes BUT......................SUCCESS! for now anyway!
I left it out on the dining room table all day so i could hear it if it popped again! picked it up almost every time i walked through the room! yes i'm happy ! :-)
---
november 2008 - october 2010