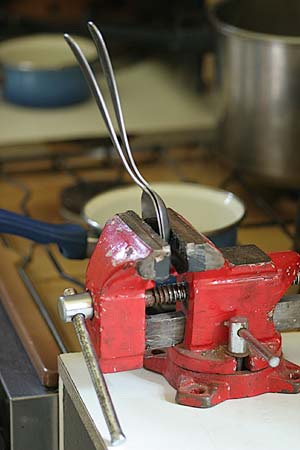 Welcome in Kamikazie

The place for kitchen's luthiers
Some archives from The Harmony discussion board, to help work by yourself on your guitar. NO warranties, here is a disclaimer wrote by Laurie :

rlspt : I'm not a trained luthier, by any stretch. never took a class. I did read a book or two over the years and visited a couple websites. I own only rudimentary tools, but I've always been handy with them. I just started messing about with my guitars when they didn't play like I wanted them to. I started with replacing saddles and nuts, then replaced a bridge or two, and before long... Nice sounding guitars with high action... I did my first neck reset on a cheap junky guitar that was in ruins anyway, so if I failed I was just making kindling, at no great loss to me or the world. It turned out okay, and after I did a few more it seemed fairly easy and the guitars played better after I was done.
So please take this as it's intended, an amateur demonstrating an operation he's done personally on his own guitars, for fun and education. It ain't the gospel, it's some idiot demonstrating his ignorance. Kamikaze luthiery personified.
okay?
thanks

This section is dedicated to JJ Cale, King of all Kamikaze Luthiers (click to check video)
Archived articles here in Kamikazie
Meteor project
by Michael
Refinish and re-assemble of a Meteor. Tips to put the electronics back inside...
Guts - Internal views
by Snapcase and others
A collection of photos to see how it's made inside the guitars
H1457 restoration
by Zhyla
Repairing severe cracks, and refinishing the blonde spruce top.
Clamping bridges
by Kev, François, Toadman
Different ways to reglue and clamp a lifted bridge
Butterfly Tuners
by Bluesy
Molding Repro Supro Butterfly buttons for Kluson Tuners
Bulge in the top
by Colin (Harmony Collector UK)
Colin has a simple method to cure a bulge in the top
Real Luthier's places :
Other places of interest :
This kamikaze John Hiatt plays a Alden Stratotone !...